General Company Information
Q:
Who is "R & D Pharmaceutical Pte Ltd"?
A:
We are the business development representative of contract manufacturers for pharmaceutical, neutraceutical and skin care products established in Singapore. We specialize in OEM House Brand for available over-the-counter (OTC) and custom-blend formulation as per your requirement of natural health dietary supplement and skincare products. We are also a value-adding strategic partner of our clients popularly known as "Doctor's Best Friend", and empower them in brand development.
Q:
What is R & D's expertise?
A:
We provide the backend support for most general practices (GP), specialists and aesthetic clinics (doctors) and selected healthcare companies (B2B) in Singapore, providing one-stop OEM House Brand products and services.
Q:
What type of product do we have?
A:
Two major product portfolios comprises of natural health dietary supplements and skincare products.
Healthy Dietary supplements are as follows:

Proprietary formula of oral alternative medicine (non-prescription) for joint (ortho) & bone (osteo) mobility, blood glucose metabolism, cardiovascular function, men & women health and antioxidant;
Proprietary formula of Ionized Zinc Lozenges for children and adults which is very effective against sinus (allergy), common cold, sore throat & bad breathe;

Skincare products are as follows:

Proprietary formula of topical alternative medicine (non-prescription) for skin problem related to acne, hyperpigmentation, dehydrated and aging;

Other types of personal care products are as follows:

Proprietary formula of Silver Ion 2-in-1 Disinfectant cum Hand Sanitizer without Alcohol;
Proprietary formula of natural mosquito repellent patch with individual foil wrap.

Q:
What type of services do we provide?
A:
The services we provide are as follows:

Customising (compounding) formulation of oral alternative medicine (non-prescription) in capsules form and topical skin products in serum, cream, gel & lotion form in small or large batches, as per your (required) request
Customising your preferred Clinic's House Brand name, logo & product name
Customising your label's artwork, provide silkscreen and/or stickers printing onto your preferred packaging
Sourcing your preferred packaging from direct plastic & glass manufacturers for lower quantity and attractive pricing
Repackaging your existing product portfolio
Storage and delivery facility (logistic support) catered for bulk order quantity

Q:
Where and how can you buy our products for local purchase & oversea purchase?
A:
For local purchase, you can buy our products by either joining as a member on our website and pay online or call our business consultant's contact number which can be found in our 'Contact Us' section during office hours between 9:30 am – 6:30 pm, Monday to Friday. Our business consultant will be glad to assist you as much as possible. The minimum order amount for free local delivery via website is S$250.
For oversea purchase, kindly submit your requests by fill up the Contact Us form. Upon receiving your order form, we require waiting time of estimated 7 working days and our business consultant will be glad to follow up with you regarding the total cost (including freight charges) before we process your order. Once your order is confirmed, we will send you a PayPal payment request. Upon verification of the funds received, we will proceed to ship out your order.
Q:
Are R & D's products free from contaminants?
A:
It is free from contamination and is safe for consumption as long as you follow the direction indicated on the product label. R & D's products are manufactured to USP (United States Pharmacopeia) and GMP (Good Manufacturing Practices) and compliance to HSA (Health Science Authority) in Singapore, MOH (Ministry of Health) in Canada and FDA (Food & Drug Administration) in USA.
Product Information
Q:
What is a dietary supplement?
A:
The Dietary Supplement Health and Education Act (DSHEA) of 1994 define the term 'dietary supplement'. It is a product taken by mouth that contains a 'dietary ingredient' intended to supplement the diet.
The 'dietary ingredients' in these following products:

Contain Vitamins, minerals, herbs or other botanicals, amino acids, and substances such as enzymes, organ tissues, glandular, and metabolites.
Formulate in different forms such as pills, capsules, softgels, gel caps, tablets, liquid or powder.
Place in a special category under the general umbrella of 'food' not drugs, and is labelled a dietary supplement.

There are different types of dietary or nutritional supplements with other forms, such as bar but they are, information on their label must not represent the product as a conventional food or a sole item of a meal or diet. Moreover, vitamin and mineral supplements are types of dietary supplements containing micronutrients meant to help a healthy body function smoothly. Herbal (or botanical) supplements are dietary supplements that have medical purpose and support a specific area of the body's health, such as liver, bones or skin.

Q:
What are the benefits of consuming dietary supplements? 
A:
Dietary supplements may help to assure that you get an adequate dietary intake of essential nutrients which is required for the body. For example, the formula of calcium supplement is essential for hypocalcaemia (low calcium level) due to diseases such as osteoporosis, osteomalacia/rickets, hypoparathyroidism and latent tetany (continuous muscle spasms in hand) to reach the sufficient level of calcium in the body.  You can also maintain an adequate amount of calcium by taking calcium capsule everyday within the certain period. However, supplements should not replace the variety of foods that are important to a healthful diet — so, be sure you eat a variety of foods as well.
Oral Dietary Supplement Series
| | |
| --- | --- |
| Q: | What are the *Superstar oral supplements in R & D? |
| A: | Our *Superstar oral supplements are Ortho Formula 1, Ortho Formula Max, Super Collagen Matrix, D3 Care (NEW FORMULA) and Ionized Zinc Lozenges. |
| Q: | How do those *Superstar supplements improve your daily lifestyle? |
A1:
Ortho Formula 1
This unique formula of Glucosamine Sulphate (GS) and Chondroitin Sulphate (CS) to alleviate symptoms of OA & RA and inhibit the progression of the disease. It is also a very suitable and highly recommended for athletics due to their strenuous exercises and people who exercise regularly by supporting and minimizing their joints from damages and connective tissue disorder.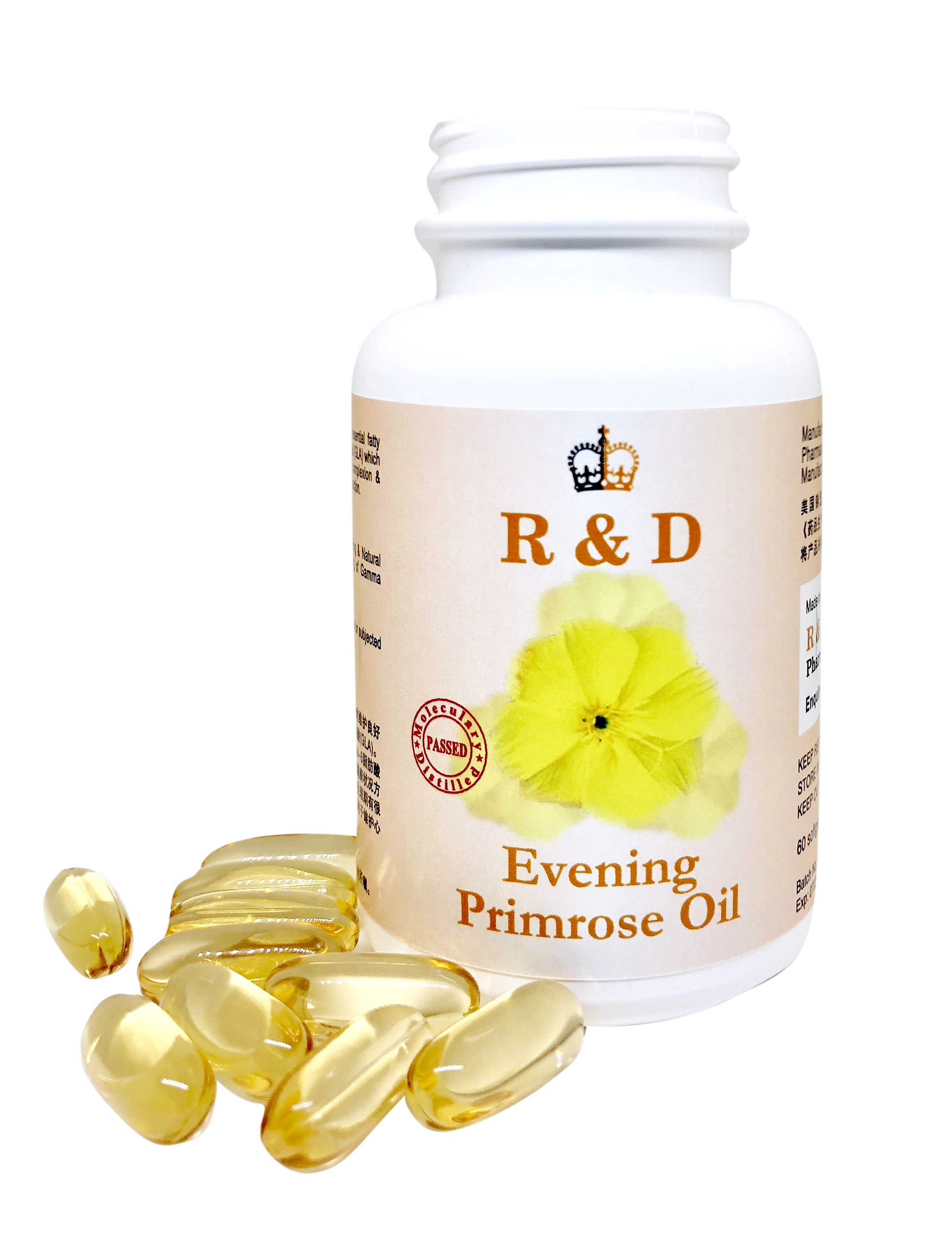 A2:
Evening Primrose Oil

Evening Primrose Oil (EPO) consists of Essential Fatty Acids (EFAs) and Gamma Linolenic acid (GLA) which is an Omega-6 Fatty Acid and Vitamin E. These condiments promote supple & healthy skin/complexion, maintains normal cell growth, hormone balance and healthy cardiovascular function.  EPO helps to ease premenstrual symptoms (PMS) such as menstrual cramps and breast tenderness. It also aids in easing the symptoms of menopause due to hormone irregularities such as hot flashes.
A3:
Super Collagen Matrix (Type II)
Super Collagen (Type II) provides following benefits for:
Joints & Skin
Increase the production of Type II collagen on chondrocytes ( joint capsule & synovial cells)
Increase mobility and flexibility
Acts like a shock absorber for joints
Maintains healthy synovial fluids
Important nutrient first skin, hair and nails
Acts like a hydrator which helps to retain moisture of the skin
Assists natural healing of soft tissues
Restores skin's energized and firming appearance.
A4:
D3 Care

D3 Care provides fat-soluble Vitamin D3 (known as Calecalciferol) which needed for the body to help regulating Phosphorus and absorption of Calcium for healthy pH level, bones, teeth and heart. Vitamin D is also called 'Sunshine Vitamin' which is either produced naturally in our body by directly exposing the sunlight or provided by food and supplements with adequate levels in our blood. 
A5:
Ionized Zinc Lozenges
It is good for the common cold, morning sinuses, allergy rhinitis, acute respiratory tract infections, and mild asthma due to viral infections. It supports the immune system and is also suitable for long-term consumption as a health supplement. The taste receptor cells will be improved because ionized zinc makes sensitive to the epithelium of the tongue where the taste bud is located. So, it is beneficial for people who are suffering from diabetes and hypertension by consuming a lesser amount of sweet and salty food daily.
Q:
If I would like to make a customized oral formula, how can I proceed?
A:
Please follow these steps-

The formula you requested must be non-prescribed products or supplements.
Go to 'Customized Oral Formula' section
Choose the raw material from the list together with the required quantity
For minimum order quantity, please submit the detail order request in our comment box under 'Contact Us' section.

Our business consultant will contact to you as soon as possible once we received the order request.
Skincare Product Series

| | |
| --- | --- |
| Q: | What are our *Superstar skincare products in R & D? |
| A: | Our *Superstar Products are Botanical (Nano) Stem Cell Essence (derived from plant), HA collagen cream, AM & PM Hexa Serum – "Botox", Golden C Recovery Serum and Pigmentation Cream. |
| Q: | How do those Superstar skincare products improve your skin/complexion? |
A1:
Botanical (Nano) Stem Cell Essence
For Instant Face Lift, Skin Rejuvenation & Lightening of Scars R & D Botanical (Nano) Stem Cell Essence contains one of the most effective and universal (fats and water soluble) anti-oxidant that has been extracted from pluripotent cells in the chloroplast. It acts as a carrier for all active ingredients and is easily absorbed by our skin. As the essence penetrates into our skin cells, an instant face lift and healthy glow is exuberated.
A2:
HA Collagen Cream
HA Collagen Cream has been developed with proprietary and precious formula which helps lifting, hydrating, repairing, recharging, restoring, energizing and providing younger-looking complexion.HA Collagen cream is a light textured, non-greasy, hypoallergenic and non-comedogenic which is suitable for even hypersensitive and acne skin.*Use it regularly and you shall achieve the amazing result.
A3:
AM & PM Hexa Serum – Hexapeptide-3 "Botox"
This unique serum works by relaxing the muscles in the face leads to less wrinkles, more hydrates and assists in regeneration of the epidermal tissue.It is also suitable for dark eyes bag and circles. Thus, it can reduce the depth of wrinkles up to 30% after 30 days of use showing its benefits as an anti-ageing serum.
A4:
Golden C Recovery Serum
Golden C Recovery Serum is the solution for skin imperfection and is suitable for all skin types due to its antioxidant properties. This formula contains both ascorbic acid and it's L-Ascorbic Acid "L" configuration, which supports wrinkle reduction and helps in healing process during pre & post acne treatment for healthy fairer skin texture.
Q:
Is there any outbreaks like allergies and rashes after using R & D skincare series?
A:
According to our customers' feedback, most of R & D skincare products didn't give any allergies and rashes.
Furthermore, they can feel and achieve a significant result after few usages.