5848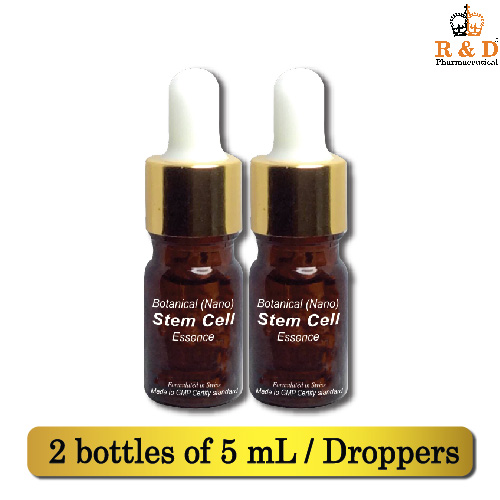 INDICATIONS
The improvising of 5th Generation development for this advanced formula of Botanical (Nano) Stem Cells Essence uses the natural NANO TECH delivery system for better absorption & effectiveness. It contains active and finer molecules in the neutral formula as compared to the traditional or conventional aesthetic treatment range of products in the market. Botanical (Nano) Stem Cells Essence is an intensive treatment that contains a film-forming protein with moisturizing and skin conditioning elements. The dropper packaging encapsulates pluripotent cells in chloroplast from LIVE plants that act as a rejuvenating cell treatment that attaches itself readily to the skin and reacting positively with it. The high absorbency characteristic of the dropper aids the skin in combating natural and premature coetaneous aging. Immediate lifting and tightening of the skin will affect within 7 minutes. It also helps blood circulation, reduces dark eye rings, wrinkles, and puffiness. While the skin is being repaired, suppleness and softness are restored, the skin illuminates with a fresh glow of vitality.
ACTIVES
R-Alpha Lipoic Acid, Hyaluronic Acid, L-Lysine (Amino), Allantoin, Sphingolipids, Cucumis Sativus Extract, Sodium Hyaluronate
DIRECTIONS
Place the dropper in the fridge for 05 to 10 minutes (let it cool down 1st) before use. Apply Botanical (Nano) Stem Cells Essence thoroughly onto cleansed & dry face or neck in a light circular motion. As Doctors practice, its anti-inflammation and soothing effects are highly recommended to use before and/or after RF/IPL/laser, Micro-Dermabrasion, or Chemical Skin Peeling treatment which supports cell rejuvenation. Use it as and when required to your desired results. Leave on for 7 to 10 minutes till concentrate fully absorbed, instant lifting is achieved. Apply Botanical Sunblock Cream or Gel before outdoor activities.
PACKAGING
Topical Liquid 5 mL x 2 Note: Once the dropper is opened, it is required to place in the fridge and complete it within 07 to 10 days.